The Best Of Professionals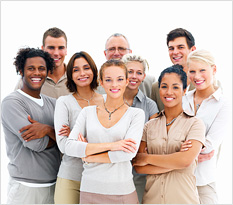 The Amara Team of Professionals leads by example with core values of Hard-work, Integrity, Trust, Respect and Accountability. At Amara, our clients come first and we don't compromise on quality. The Amara Team provides the Information Technology services and solutions our clients need to preserve investments and prevail in meeting the increasing demands of this millennium. 

The Amara Enterprise Team consists of a diversified multifaceted group of professionals with an excellent understanding of trends and the integration of state-of-the-art technologies and strategies.  Amara Enterprise, LLC creates a synergistic environment to innovate, identify opportunities, increase efficiencies and improve the effectiveness of delivering quality services and solutions.
Working with Amara Enterprise, LLC ensures that you will benefit from the fibers we have woven through all of Team Amara: Hard-work, Integrity, Trust, Respect and Accountability (HIT-RA).
A Few Words About Us
At Amara Enterprise, LLC, we pride ourselves on delivering quality with every service and solution we provide; no matter how big or small.
For Amara Enterprise, LLC, Quality and Service Go Hand-in-Hand!

Based in Washington, DC, Amara Enterprise, LLC is a woman owned small business with over 20 years of innovative and resourceful Information Technology experience. Amara Enterprise, LLC, provides an array of Information Technology services to government and commercial clients. These services include: Project Management, Transformation Management, Transition Management, Risk Management, Quality Planning, Quality Control, Quality Assurance, Training and Coaching.
Why Choose Us

At Amara Enterprise, LLC we put our clients first and integrity, trust, respect and accountability above all else. Amara Enterprise, LLC protects our client's investment by using resources in the most efficient manner possible and by identifying opportunities that add sustainable value to our client's missions and objectives. Our Project Management Professionals (PMP) are PMI certified with experience in traditional and agile methodologies. Amara's PMPs deliver with speed, efficiency and ingenuity. Amara's Transformation Specialist move organizations in new directions that improve quality, reduce costs and effectively utilize resources. Amara's Quality Planning, Quality Control and Quality Assurance is unsurpassed and built on W. E. Deming's doctrine of Continuous Improvement. Amara's Training and Coaching Teams use best practices, Train-the-Trainer principles and adaptive curricula for building the foundation for teams with an edge and prepares them to perform their mission.